If you want to apply for a small business loan, an Aadhaar is a must. If you have applied for an Aadhaar and do not remember the enrollment number or the mobile number but want it, there is a provision online by which you can easily get it downloaded.
Getting Aadhaar card online download from the official website of UIDAI is very easy even if you have lost the Enrollment number or Mobile number or for that matter, even the Aadhaar number. The official Government Aadhaar portal UIDAI has made the process simple enough. The only requirement in this condition is that you remember your registered email ID.
Never ever share your Aadhaar card data with anyone. Do not share it online with any website, except for UIDAI's official website.
Steps to get Aadhaar Card Online Download without Mobile Number or Enrollment Number:
Step 1
To Get Aadhaar Card Online Download without Mobile Number – Get Enrollment Number first:
Go to the link https://resident.uidai.net.in/find-uid-eid or CLICK HERE
Select Enrolment No. (EID)
Fill your Full Name and Email ID (no need to enter mobile number) which you have given during the Enrollment process.
Enter the security code and Click on 'Get OTP'
You will receive your OTP in the inbox of your email-id.
Enter the OTP in the box and click on 'Verify OTP'
You will get your enrolment number in your email.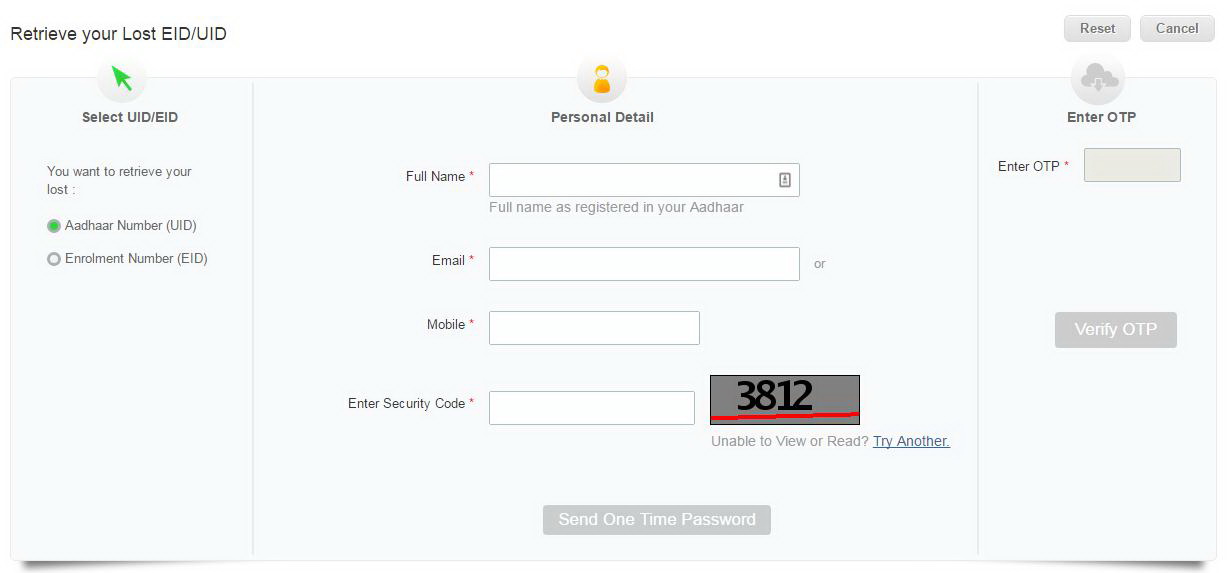 Step 2 
To Download Aadhaar Card Online without the Mobile Number:
You have already received your Enrolment No. in your email, go to the link https://eaadhaar.uidai.gov.in/ or CLICK HERE.
Then follow these simple steps –
Select Enrolment ID (the one you received it in your previous steps)
Fill the details required.
For filling 'Mobile number' – give the present mobile number that you have at the current time.
Click on 'Get One Time Password' and you will receive the OTP\
Enter the OTP, Validate and Download it.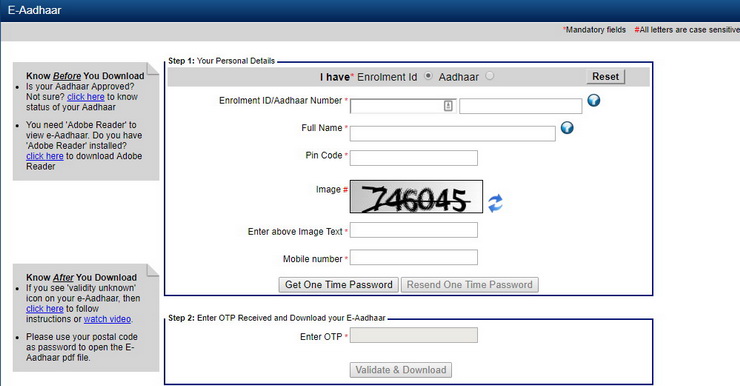 How to Download Aadhaar Card without Enrollment Number?
As you have seen, the process becomes easy if you have registered mobile number, since the OTP is sent to this number.
You can follow the same steps above if you want to Download Aadhaar Card without enrollment number. To get the Enrollment number CLICK HERE
Just go to this link to access eAadhaar download portal.
Fill the Enrollment Number and registered mobile no. and get the Aadhaar Card Online Download.
If you have misplaced your Aadhaar number, Enrolment no, Registered mobile no. and registered e-mail ID, you will need to contact the nearest Aadhaar Card Centre.
Important tips to remember:
For Aadhaar card, online download without mobile or enrollment number – always remember to GET ENROLLMENT NUMBER FIRST and not Aadhaar number! It is because you can give any mobile number to download Aadhaar card online. If you get an Aadhaar number, then you have to give your registered mobile number.
The eAadhaar card is password protected. The password is a combination of the first four letters of your name and your year of birth.
So follow the above steps to get Aadhaar Card Online Download. Once you have a downloaded copy with you, you can take a print out of the same.
Looking for a business loan? Contact Gromor Finance. Gromor provides small business owners unsecured business loans at attractive interest rates!